WILDLIFE & RESOURCE MONITORING,
PROTECTION IN THE MASAI MARA
THE FOC COMMUNITY SCOUTS PROGRAM
FOC helps to fund, train and facilitate the FOC Maasai Scouts who patrol on foot, in pairs, outside the Masai Mara National Reserve. Together, with the Kenya Wildlife Service they work to apprehend poachers of any kind. Keep records and reporting to the KWS on wildlife sightings, they also take a frontline role in the prevention of a newer form of poaching from which no wildlife is safe – the rapidly growing illegal bush meat trade. Scouts also patrol for illegal use of other natural resources, such as the cutting of trees for timber, firewood or charcoal sales and the harvesting of sandalwood.
In addition, FOC's Community Conservation Officer, with assistance from FOC Scouts, conducts seminars for locals on diverse and valuable issues of community interest such as, HIV prevention, trash collection and disposal, human wildlife conflict resolution, conservation issues and resource management.
CONSERVATION ENTERPRISE
Conservation enterprise development is a key component in promoting sustainable business practices within Maasai villages. FOC has developed several successful projects with villagers, demonstrating to participants their stake in its success and thus their reason in paying for half the equipment, and FOC, the other half. Free training and supervision is provided by FOC for as long as it is required.
FORESTRY RESOURCES: PLANTING
Friends of Conservation continues to promote community reforestation with ongoing tree planting and seed collection projects within schools and local communities. Seminars in forestry production and protection have provided training to local peoples as well as to our scouts. Protection of existing forests is also addressed with projects demonstrating the use of alternative and renewable sources of energy for cooking and heating, such as FOC's two biogas plants.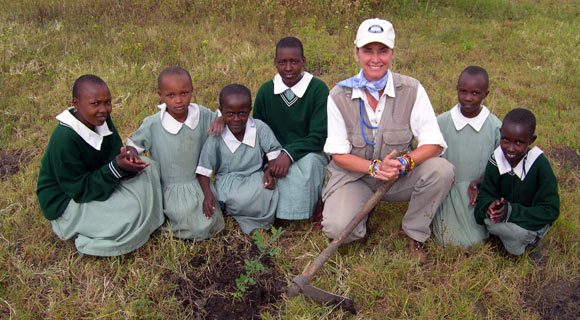 BEEKEEPING
In Tanzania, FOC funded the successful and sustainable Mwika Beekeeping project, and in 2012/13 established a sustainable demonstration beekeeping project in the Talek area of the Masai Mara, near its Biogas plant and an FOC Conservation Club school.