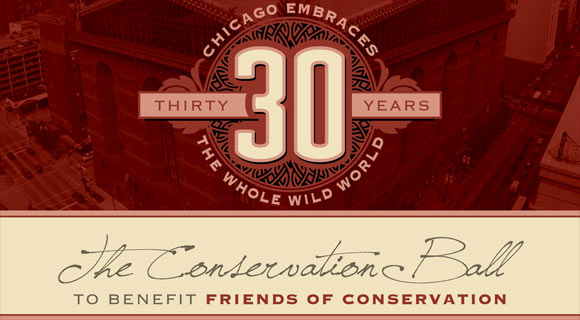 The Conservation Ball…Oct. 12, 2012
Join us in Chicago for an amazing evening at The Conservation Ball 2012 and help celebrate our 30th anniversary! Hosted in the elegant Winter Garden ballroom of the historic Harold Washington Library.
Friday Oct 12th, 6:30pm
Harold Washington Library
400 South State Street, Chicago
(entrance at 401 South Plymouth Court)
The evening begins under the graceful glass canopy of the Winter Garden with a fine dinner catered by George Jewell followed by a thrilling wildlife exposition! Then, participate in an auction of unique and exotic vacation adventures, silent auction of rare art & gift packages, and dance under the stars until midnight with the Stu Hirsh Orchestra.
Hosted by Reute Butler who is joined by Chicago's own Zoraida Sambolin.
World-Renowned Wildlife Expert Jim Fowler (of Wild Kingdom fame!) will return to delight guests by filling the Winter Garden with rare and beautiful animals.
For more information, contact Sue Mitchell: (630) 288-2714.
Table Sponsorship Levels and Benefits:
After clicking the "Buy Now" button you will have the option to change the quantity of your purchase.
Single Guest(s): $350
Single Guest(s): $250 (age 35 and younger)
Single Patron(s): $500
Single Benefactor(s): $700
Donor Table: (table of ten) $3,500 (1)
Patron Table: (table of ten) $5,000 (2)
Benefactor Table: (table of ten) $7,000 (3)
Contributing Sponsor Table: (table of twelve) $10,000 (4)
Major Benefactor Table: (table of twelve) $25,000 (5)
(1, 2, 3) Acknowledgment in the Tribute Book
(4, 5) Featured in the Tribute Book
(2, 3) Preferred Seating
(4) VIP Table Placement
(5 ) VIP Table Placement on Dance Floor
(2) Quarter- Page Ad in the Tribute Book
(3, 4) Half-Page Ad in the Tribute Book
(5) Full-Page Ad in the Tribute Book
(3, 4) Acknowledgement from podium at the event
(5) VIP recognition and called to podium at the event
(4, 5) Inclusion in pre-and post-publicity
(4, 5) VIP Pictures with the animals before the event begins
(5) Two representatives participate in the Wildlife Exposition
Become a Table Captain!
If you agree to become a Table Captain, you are agreeing (not committing) to buy or sell a table of 10 to family, friends, and associates. Table Captains have important roles as brand ambassadors for FOC and the event. Your name will be duly noted in the evening's Tribute Book (Table Captains may be an individual or a corporation).
Buy Space in the Tribute Book
Include a personal message or advertisement in the evening's commemorative Tribute Book (an excellent opportunity to advertise your business to the event's attendees). Fully tax deductible or treated as a business expense.
Tribute Book Ad Page Rates:
Quarter Page Ad: $250
Half-Page Ad: $400
Full-Page Ad: $750
Donate and/or Solicit Auction Items
The evening will feature both silent auction and live auctions. There are so many wonderful and creative possibilities with Auction Items. Artwork, jewelry, weekend getaways, chef's dinners, theater/dinner packages are just a few examples. Abercrombie & Kent, FOC's core supporter since 1982, will be donating one-of-a-kind destination vacations/excursions that will be auctioned off at the live auction by professional auctioneer David Goodman. Absentee bids accepted!
Gift of Time
Last, and not least, FOC is always looking for volunteers who can help in a myriad of ways. This help will be most valuable in the days leading up to the event, on the day of during and following the evening. This type of help might include help with delivering auction items to the venue prior to the event. If this interests you, please let us know and we will let you know more specifically where help will be needed.
---
The Conservation Ball 2011 was held at The Fairmont Hotel in Chicago. Visit our flickr page for photos!
---
Make a Donation to Friends of Conservation
If you are unable to attend The Conservation Ball you can still make a one-time donation in support of Friends of Conservation. Your donation will support our efforts in 2012 to combat the increasing economic and industrial pressures threatening the Masai Mara, to empower the local people through education, and to expand the highly successful FOC Scouts program.
---