OUR MISSION…
FOC efforts join with local people and partners to support sustainable ways of living in harmony with wildlife, ecosystems and the environment.
FOC supports this conservation mission with programs that…
reduce
the impact of climate change with grassroots projects that involve local communities
educate
and train local people to utilize their environment as a natural, renewable resource for their economic benefit
take
pro-active role in protecting endangered species and their ecosystems
provide
scientific research that has an immediate impact on conservation programs and the environment
educate
future generations on the sensitive balance of their natural world
educate
tourists and tour operators to respect fragile ecosystems so that these areas continue to thrive
establish
a high level of management efficiency so that maximum revenue is allocated to the field
The strongest defense for preserving our natural heritage
lies in the unification of environmental and economic goals.
OUR VISION…
FOC seeks to ensure that future generations benefit from the continued protection of the natural heritage of our planet.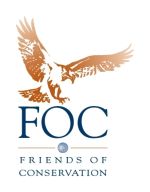 THERE WILL NOT BE A SECOND CHANCE